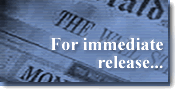 ISD Announces Y2K Compliant Upgrade for On-Tap Bar Code Software
Version 6.0 of On-Tap bar code software has been developed by ISD to be fully compliant for the year 2000. This new version is scheduled for shipment immediately and orders for this release are currently being accepted.
On-Tap is the fastest and easiest way to integrate bar code printing into the software you already own. On-Tap allows you to integrate barcoding into documents printed from your existing applications and print them on virtually any printer.
The new version of On-Tap bar code software is offered for DOS, VMS and UNIX operating systems. On-Tap 6.0 is offered free of charge to ISD's clients under maintenance.
With expertise in Business Process Automation, Enterprise Print Services, and Enterprise Trace & Track, Integrated software Design (ISD) prides itself in having provided creative IT solutions for more than 5000 clients worldwide since 1984. ISD clients range from growing start-ups to more than 50 percent of fortune 500 companies in the manufacturing, chemical, pharmaceutical, retail, educational, financial, health care, and electronics industries.
ISD's offerings range from award-winning off-the-shelf software products and professional services incorporating customized software design, development and system integration, to business intelligence and knowledge management services, including consulting, compliance and audits.
At ISD, our core values are what enable us to quickly deliver quality products and services that address vital business issues and solve problems for our clients, in a collaborative spirit. Let us make a lasting impression on you.