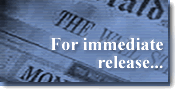 Tattoo ID Enterprise Helps Companies Control Bar Coding and Labeling
Integrated Software Design announces the release of Tattoo ID Enterprise, a software package for corporate labeling. Tattoo ID Enterprise allows companies to design labels from a central bar code labeling station, and print the labels from remote label printing stations placed at strategic locations throughout their company. By providing centralized design and distributed printing, Tattoo ID Enterprise allows companies to control branding, improve compliance labeling initiatives and promote their corporate image. A free trial download is available at the ISD store: http://www.barcodeandlabeling.com/Download/index.htm.
"Over the years many clients have told us how difficult it is to assure that corporate labeling standards are met consistently throughout their company. This package is for them," says Phyllis Zaiger, V.P., www.barcodeandlabeling.com. "Tattoo ID Enterprise represents a huge step forward in allowing companies to standardize labeling throughout their enterprise."
Centralized bar code label design
The Tattoo ID Enterprise design station makes it easy to design professional labels with color, text, pictures, shapes and bar codes. Tattoo ID Enterprise supports over thirty bar code symbologies and subsets, including Code 39, Codabar, Interleaved 2 of 5, UPC, EAN and Postal bar codes. It also includes 2D bar codes.
Labels can contain fixed or variable information. Dynamic bar codes, text and graphics can come from a wide variety of sources, including company databases.
Distributed bar code label printing
Tattoo ID Enterprise label printing stations can be set up throughout a company. Print station labeling can be driven by either label design or database information. Dynamic data can be filled in automatically from corporate databases or operators can be prompted to enter the appropriate information. Printing is simple and operators require little or no training to produce professional labels that are in compliance to corporate standards.
Integrated Software Design, Inc.
Integrated Software Design (ISD) is the leading provider of on-demand bar code and enterprise labeling software solutions. ISD has been providing bar code and labeling solutions since 1982 to companies in the manufacturing, chemical, pharmaceutical, retail, education, financial, health care and electronics industries. ISD's offerings include award winning off-the-shelf software products and professional services incorporating customized software design, development and system integration.