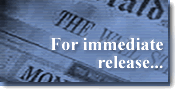 Integrated Software Design Introduces New Bar Coding Software On-Tap™/UNIX
Integrated Software Design (ISD), the leader in enterprise wide printing, tracking and business process automation, announces its entry into the Unix market by the introduction of On-Tap version 5.0.6c. ISD will demonstrate On-Tap/Unix during IT Forum.
On-Tap Unix is a print filter that provides seamless integration of bar codes into business applications running under SUN, SCO and IBM/AIX operating systems. For example, reports generated from databases and on-line systems can easily print bar codes by simply marking the data with a pair of trigger characters. On-Tap is exceptionally suited for document management, tracking applications, mailing system applications requiring Postnet and in general, any business system requiring data capture automation. On-Tap is compatible with major software systems such as SAP, BAAN, Peoplesoft, Lawson and major databases such as Oracle, Sybase and Informix. With On-Tap, any standard office laser or Impact printer can become a bar code printer. On-Tap supports many printers such as HP, Lexmark, Epson, IBM, Okidata, and NEC.
On-Tap/Unix gives you the ability to print more than 13 different types of bar code symbologies and subsets such as code 39, UPC, Postnet and code 128 meeting all industrial standards. It allows you complete control over each bar code ratio, check digit, height and plot density. On-Tap even allows you to include several different types of bar codes in the same document.
On-Tap/Unix is supported on all SUN, SCO and IBM/AIX computers and workstations and is licensed for single CPUs or network clusters. On-Tap's memory and disk space requirements are minimal and provides users with the fastest, easiest and most economical way to integrate bar codes into their existing applications.
Integrated Software Design is the leading supplier of enterprise wide printing, tracking and business process automation solutions to over 4500 U.S. and international businesses. ISD"s clients are in manufacturing, chemical, retail, educational, financial, health care and electronics industries. ISD's software is installed in over 50% of fortune 500 companies on many platforms ranging from personal computers to clusters of high power servers.