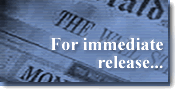 Tattoo ID Enterprise Labeling Software 5.3.0.8 Launches with Positive Reviews
Integrated Software Design (ISD) announces the release of Tattoo ID Enterprise, version 5.3.0.8. In developiing this new version, ISD used feedback from customers for new features and simplified label creation. The new Tattoo ID Enterprise 5.3.0.8 gives access to more external data, enables labels with multiple pages, and introduces comments and marking to improve documentation.
In addition, Tattoo ID Enterprise 5.3.0.8 gives clients the ability to design labels at a central location and print from remote locations throughout their enterprise. Labels can be multiple pages and can include dynamic fields that are filled in from corporate databases with enhanced Open Database Connectivity (ODBC). Labels can also include formulas with math functions, logic or concatenation and 2D bar codes.
"Customer feedback has been extremely favorable," states Phyllis Zaiger, Vice President. "Clients have been particularly enthusiastic about our improved database connectivity tools."
Integrated Software Design, Inc.
Integrated Software Design (ISD) is the leading provider of on-demand bar code and enterprise labeling software solutions. ISD has been providing bar code and labeling solutions since 1982 to companies in the manufacturing, chemical, pharmaceutical, retail, education, financial, health care and electronics industries. ISD's offerings include award winning off-the-shelf software products and professional services incorporating customized software design, development and system integration.