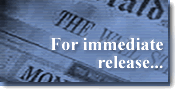 New UNIX Barcoding Software Lets You Print 2D Bar Codes
Integrated Software Design (ISD), announces On-Tap PLUS, a new UNIX barcoding software that lets you add bar codes to all of the documents that you print from any application software on any printer. On-Tap PLUS includes all of the most popular bar codes and subsets, and lets you control a wide variety of bar code specifications.
UNIX barcoding
On-Tap PLUS provides seamless integration of bar codes into business applications running under LINUX, HP UNIX, SUN UNIX, SCO UNIX, OSF1, TRU 64 and IBM/AIX operating systems. Labels, documents and reports generated from databases and on-line systems can easily print bar codes by simply surrounding the information to bar code with a pair of trigger characters.
Application independent barcoding
On-Tap PLUS is exceptionally suited for document management, tracking applications, mailing system applications requiring Postnet or any other business process in which barcoding is needed. On-Tap is compatible with all major software systems such as SAP, BAAN, Peoplesoft, Lawson and major databases such as Oracle, Sybase and Informix.
Printer independent barcoding
With On-Tap, any standard office laser or Impact printer can become a bar code printer. On-Tap PLUS gives you the ability to print Code 39, Code 128, Codabar, Interleaved 2 of 5, Straight 2 of 5, Postnet, MSI, UPC, EAN, Aztec, Datamatrix, Maxicode and Pdf 417 bar codes . It allows you complete control over each bar code ratio, check digit, height and plot density. On-Tap even allows you to include several different types of bar codes in the same document.
Integrated Software Design, Inc.
Integrated Software Design (ISD) is the leading provider of on-demand bar code and enterprise labeling software solutions. ISD has been providing bar code and labeling solutions since 1982 to companies in the manufacturing, chemical, pharmaceutical, retail, education, financial, health care and electronics industries. ISD's offerings include award winning off-the-shelf software products and professional services incorporating customized software design, development and system integration.