Customization Services
ISD provides Custom Application Development through our partnership with enLabel Global Services. enLabel provides expertise in the optimization of compliance processes through workflow simplification and workflow automation.
Using knowledge based process automation techniques, and process re-engineering, enLabel provides measurable results by creating financial savings and increased productivity.
enLabel's proprietary methodology is a collaborative process, initiated and implemented with the participation of clients. The process begins with the client's executive level commitment. Assuring that everyone involved understands any problems that have been identified and believes in the process is also crucial to the initiatives success. This systematic approach protects the interests of clients, guarantees the success of deliverables and offers the foundation for risk free projects.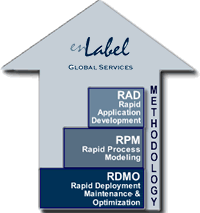 enLabel offers:

Strategies, objectives & tactics

Regulatory & compliance services

Measurement & accountability
Customized software solutions are provided through enLabel Global Services.