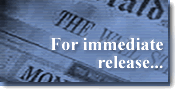 Automated Migration Program Saves Time and Money
Integrated Software Design (ISD), the leader in enterprise labeling, tracking, and business process automation, introduces The Tattoo Platinum Upgrade Plan, a unique program to allow migration from ISD's existing label composition and printing products to ISD's award winning labeling software platform - Tattoo ID.
Tattoo Platinum Upgrade Plan is ISD's premier process specially designed for clients to existing from ISD's existing labeling software products to ISD's award winning software Tattoo ID. Tattoo ID is the world's first enterprise ready and web enabled label composition and printing software that supports many hardware and operating system platforms. Tattoo Platinum Upgrade Plan offers migration from ISD's GBL, CIBL, Barney Ellis, Barney Express, Barney/VMS, Barney/Unix and Print Wheel.
Tattoo Platinum Upgrade Plan provides for the smoothest migration to Tattoo ID in the shortest time with maximum reliability and no burden on the client. The program is offered as a turnkey solution and has been successfully implemented with several clients saving them an overall 50%-75% in migration costs. In addition to savings due to direct migration costs, the savings due to eliminating errors associated with minimizing liability due to FDA and OSHA compliance and regulations has been substantial.
Tattoo Platinum Upgrade Plan eliminates unnecessary work by providing full conversion of data from existing software to Tattoo ID including labels, graphic libraries and databases. It also maximizes reliability and security of migration via automation and systematic in-process QA procedures. Tattoo Platinum Upgrade Plan also assures system integrity for regulatory and customer compliance requirements. With Tattoo Platinum Upgrade Plan, clients not only get their current system documented, but also obtain a migration plan detailing resource requirements. Included in Tattoo Platinum Upgrade Plan is a hardware analysis which identifies and recommends alternatives and new printer technologies. Media and consumable analysis is also included offering recommendations for lowering costs. To top off the list, with Tattoo Platinum Upgrade Plan, clients receive rapid deployment by on-site installation, training and maintenance.
Tattoo Platinum Upgrade Plan features Tattoo ID, an enterprise-wide and web-ready label design and print platform for Windows. Tattoo ID was first introduced at ID EXPO in Philadelphia. It has since won several first place prizes and has generated outstanding reviews. Tattoo ID has superior design features that are second to none. It easily integrates with ERP, MRP or any enterprise business systems. Tattoo ID can also be incorporated with your web-enabled or Intranet applications. In addition to its central design and multi-platform printing support, it enables universal data base connectivity.
With expertise in Business Process Automation, Enterprise Print Services, and Enterprise Trace & Track, Integrated software Design ( ISD) prides itself in having provided creative IT solutions for more than 5000 clients worldwide since 1984. ISD clients range from growing start-ups to more than 50 percent of fortune 500 companies in the manufacturing, chemical, pharmaceutical, retail, educational, financial, health care, and electronics industries.
ISD's offerings range from award-winning off-the-shelf software products and professional services incorporating customized software design, development and system integration, to business intelligence and knowledge management services, including consulting, compliance and audits.
Tattoo Platinum Upgrade Plan investment varies based on system configuration.