Tattoo ID® Print Wheel Brings WYSIWYG Label Design and Form Design Capabilities to OpenVMS and UNIX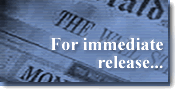 Integrated Software Design (ISD), the leader in enterprise printing and document management software, has announced the availability of Tattoo® Print Wheel. Tattoo Print Wheel provides users of Unix and ALPHA OpenVMS with a full featured WYSIWYG label design and form design interface, the ability to include information from enterprise databases and the capability to print bar codes on multiple types and brands of printers.
Tattoo Print Wheel offers companies a vehicle with which to standardize label design and form design throughout their organization. The versatile capabilities of the software support printing from VMS, OpenVMS, Unix and NT on most laser, dot matrix or thermal transfer printers.
Tattoo Print Wheel combines the features of two powerful ISD software products into a total solution for Alpha systems. Tattoo ID provides flexible Windows desktop design features and Print Wheel provides powerful translation capabilities to allow users to print various size characters, fonts, lines, boxes, pictures and bar codes through their Unix and ALPHA OpenVMS systems. Tattoo PW allows users to include information on their labels or forms that come from Enterprise Resource Planning Systems such as SAP, BAAN, Oracle ERP, JDE and many more. Tattoo PW lets users print every popular bar code type, such as Code 39, Code 128, Codabar, Interleaved 2 of 5, Straight 2 of 5, UPC, EAN, MSI and POSTNET, without any additional hardware or SIMMs.
Tattoo Print Wheel makes it easy to print complex labels through Unix and ALPHA OpenVMS. First design labels through Tattoo ID's Windows interface. Subsequently, use Tattoo Print Wheel to select and name the file, select a printer driver, configure fonts and translate the file.
Tattoo Print Wheel may be used to design and print a vast array of documents including forms, invoices, purchase orders, manufacturing tickets, documents, letters, and shipping papers.