---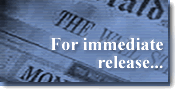 Synchronize Files Throughout your Enterprise with Tattoo Sync
Integrated Software Design (ISD), the leader in enterprise labeling, tracking and business process automation, announces the release of Tattoo Sync. Tattoo Sync is an indispensable tool that allows users to automatically duplicate, distribute and synchronize files locally or within a network. As a result, all users have access to the most current data, programs and files available within their enterprise.
Tattoo Sync allows users to distribute files from a server to a PC, from a PC to a server, or from one PC to another PC. Data can be synchronized on-demand, or scheduled to be distributed at recurring times without user intervention. This is especially helpful in managing applications that are frequently changing, such as databases, development in-progress and accounting.
Tattoo Sync is simple to use. It's program features can be accessed directly from the Windows Explorer desktop or tray. And, because it is installed and configured at each PC, it can be designed to synchronize only the data that is applicable for each user by name or type. Once configured, synchronization procedures can be saved and used on-demand.
Integrated Software Design (ISD) has been the leading provider of compliance solutions to the life science, chemical and manufacturing businesses since 1982. ISD's solutions utilize proven technologies, which have been field-tested. ISD is committed to delivering successful implementations with guaranteed results, and have successfully worked with executive management teams to provide solutions to over 4500 businesses internationally on many platforms ranging from personal computers to clusters of high power servers.