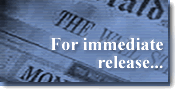 Integrated Software Design Launches Newly Redesigned Web site
Integrated Software Design, the leader in enterprise wide printing, tracking and business process automation, announces the launch of its newly redesigned site at www.isdweb.com.
"The new site reinforces our reputation for designing superior off-the-shelf bar code and labeling software and our ability to implement zero defect compliance labeling enterprise solutions", says Ramin Khoshatefeh, CEO.
Features include free downloads, corporate information, careers, news, professional services, success stories, software sales and support. In addition, the site contains a search feature and many downloadable white papers that provide valuable information about bar coding, compliance labeling and industrial best practices.
Integrated Software Design (ISD) has been the leading provider of compliance solutions to the life science, chemical and manufacturing businesses since 1982. ISD's solutions utilize proven technologies, which have been field-tested. Integrated Software Design is committed to delivering successful implementations with guaranteed results, and have successfully worked with executive management teams to provide solutions to over 4500 businesses internationally s on many platforms ranging from personal computers to clusters of high power servers.