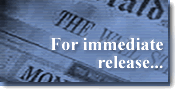 ISD Relocates Corporate Headquarters
Integrated Software Design announced today that it has relocated it's corporate headquarters to a larger state-of-the-art facility at 89 Forbes Blvd., Mansfield, MA.
The company's relocation is attributed to its significant growth over the past twelve years.
The new headquarters offers generous office space to accommodate their rapidly expanding sales force and customer service team. The location also includes space for a training center to better serve enterprise clients and key channel partners.
ISD is conveniently located at the intersection of Rte. 95 and 495, in Mansfield MA, only 32 miles from Boston, 15 miles from Providence RI and 20 miles from Cape Cod.
Integrated Software Design, Inc.
Integrated Software Design (ISD) is the leading provider of on-demand bar code and enterprise labeling software solutions. ISD has been providing bar code and labeling solutions since 1982 to companies in the manufacturing, chemical, pharmaceutical, retail, education, financial, health care and electronics industries. ISD's offerings include award winning off-the-shelf software products and professional services incorporating customized software design, development and system integration.